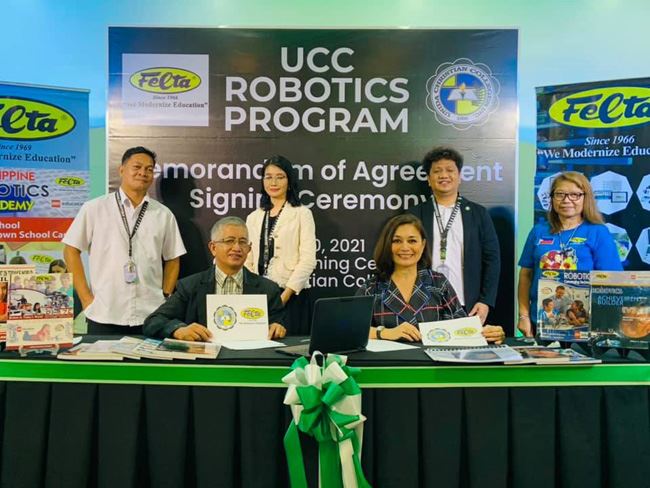 The roster of Philippine Robotics Academy schools in the Philippines is growing despite the Covid pandemic. UNIDA Christian College in Imus, Cavite is the latest addition to the roster of Philippine Robotics Academy Schools in the Philippines.
Bishop Edgardo Marquez, School Director, UNIDA Christian College and Mylene Abiva, President/CEO, FELTA Multi-Media Inc. signed the Memorandum of Agreement for STEM Robotics Technology. UCC will build the first Center for Robotics Excellence in the province of Cavite. FELTA is the Robotics provider and lead Trainer for UCC. UNIDA Christian College will participate in the upcoming 20th Philippine Robotics Olympiad and Robot Virtual Games Challenge  2021.
The  Philippine Robotics community is increasing its influence on the Future of Work and preparing our youth through quality STEM Education to be relevant to the new Normal . UNIDA Christian College Cavite partner with the Best in Robotics Technology through FELTA Multi-Media Inc.