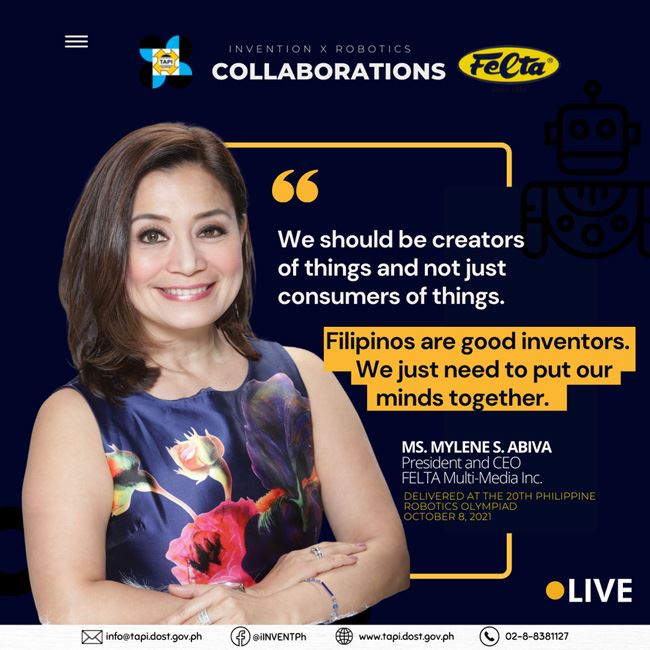 DOST-Technical Application and Promotions Institute (TAPI)  implements various programs of assistance in the protection, ideation and development of invention under the Invention Development Division (IDD), which includes:
(1) INVENT SCHOOL PROGRAM (ISP),
(2) CONCEPT PROTOTYPING PROGRAM (CPP),
(3) INDUSTRY-BASED INVENTION DEVELOPMENT PROGRAM (IBID),
(4) INVENTION-BASED ENTERPRISE DEVELOPMENT PROGRAM COMPONENT 1 (IBED-1)
(5) INTELLECTUAL PROPERTY RIGHTS ASSISTANCE PROGRAM (IPRAP), and
(6) INVENTION TESTING AND LABORATORY ANALYSES ASSISTANCE PROGRAM (Testing), among others.
 ISP serves as a platform for the youth to awaken their true ingenuity by stimulating their interest for creativity and inventiveness and open the minds of students on techniques in developing ones' creative knowledge.
DOST-TAPI signed a Memorandum of Agreement with FELTA Multi-Media Inc. as private sector partner in the implementation of programs and activities . Mr. Romeo M. Javate, OIC, Office of the Director, DOST-TAPI and Atty. Marion Ivy Decena, Division Manager , Invention and Development, DOST-TAPI  with Mylene Abiva, President/ CEO, FELTA Multi-Media Inc. signed the MOA during the virtual MOA Signing Ceremony last October 8, 2021 at the World Robot Olympiad – Robot Virtual Games Launch.
Filipino ingenuity innovations and inventions for Progress!