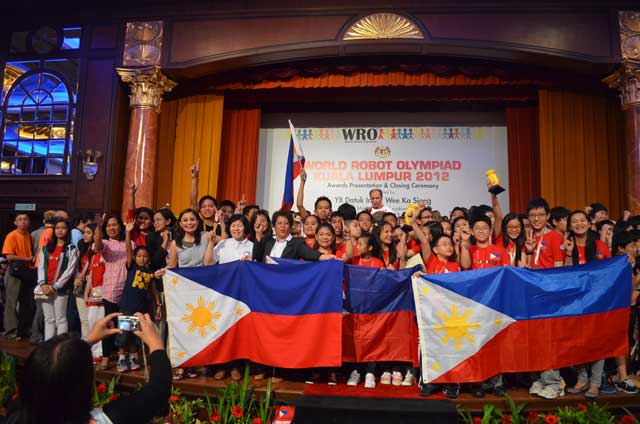 "Robots connecting People" is the theme for the 2012 World Robot Olympiad held last November 8-12, 2012 at Kuala Lumpur, Malaysia. A total of 30 countries and 405 teams participated in the event.
"The World Robot Olympiad generates early interest in science and encourages our youth to be our future scientists, engineers and inventors from all over the world. The Robotics program is an exciting development in education", Mylene Abiva, National Organizer, Philippine Robotics Olympiad, and President/CEO, FELTA Multi-Media Inc.
The WRO participants use LEGO Robotics which can be manipulated using an NXT or RCX brick, a microcomputer that serves as the "brain" of Robolab inventions. The participants also use computers to design a program with command icons. The program is transferred to the NXT/ RCX brick via Bluetooth technology and the robots are commanded to move in various ways through designated field challenges.
This year, the Philippine Robotics team won the GOLD medal represented by Dr. Yanga's Colleges Inc. , who's entry H.E.R.O. , is an acronym for Humanoid for Educational Reinforcement Operation. It is a robot that is aimed to effectively connect with people through education. Inspired by Efren Penaflorida, it looks like a modernized pushcart classroom where the humanoid is installed. The robot focuses on the basic elements and fundamental skills expected from teachers. H.E.R.O. can mimic facial expressions, he can also play rock, paper, scissors game, he shows dancing robots as visual aids for his students. Moreover, he has a feature called Stratified Learning Evaluation Scheme, wherein students learn the basics of English, Science and Math through video lessons aided by puppets. Lastly, H.E.R.O is able to separate paper from plastic to teach students about recycling and caring for the environment.
Our SILVER medal was won by Grace Christian College, who made I-Learn: Interactive Learning with Exciting and Advanced Robot Navigation. Their robot offers alternative learning which includes interactive activities, to develop critical thinking, problem solving skills and sportsmanship among students. HOTSHOTS is a lively activity for young students to master counting and recognition of basic colors. CODEBREAKER is a teasing activity for students to challenge their logical reasoning and thinking skills.
The Philippine Robotics Team is supported by Quezon City Interactive Science Center, SM North EDSA Cyberzone, INTEL, McKesters, McDonalds, Masterclass Manufacturing, Asia Pacific College, CDO Foodsphere, Planters Development Bank, ETIHAD, Lamoiyan Corporation and Astrotel. For details, call Coni Inocencio-Peralta/ Donna Ermitanio at tel. no 912-1397 or 438-1756, or email felta@pldtdsl.net or visit www.felta.ph