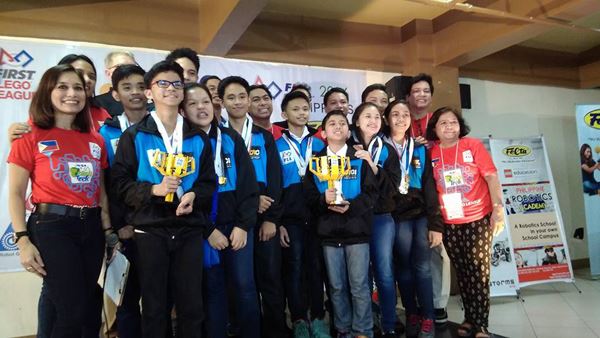 LEGO Education, Billund ,Denmark – FLL (First LEGO League ) Program Head, Gerhard Andersen attended the 5th FLL Philippines Robotics competition with the theme "Trash Trek" held at the Quezon City Interactive Science Center. British International School Manila , Chinese International School, Temple Hill International School, and Colegio San Agustin Makati were the "newbies" of the Robotics competition this year.
Dr. Yangas Colleges Inc. "DYCI Blue Ocean 10" team won the Champions Award and will represent the Philippines in the FLL World Championship to be held in St. Louis, MO, USA in April 2016. Another DYCI team, "Ubuntu Imagineers" who was ranked 2nd place will represent Philippines in FLL Asia Pacific Open to be held in Sydney, Australia in July 2016 and the top six (6) ranked in 5th FLL Philippines , DYCI Blue Ocean 10, DYCI Ubuntu Imagineers, Grace Christian College, Caridad C. Labe Centrex (Cebu) Team A & B and CAVITE SCIENCE NATIONAL HIGH SCHOOL will represent the country in FLL Philippine Islands Invitational to be held in Lapu Lapu, Cebu, Philippines in June 2016.
Congratulations to all the participants of the 5th FLL Philippines Robotics competition! Mabuhay ang Pilipinas!