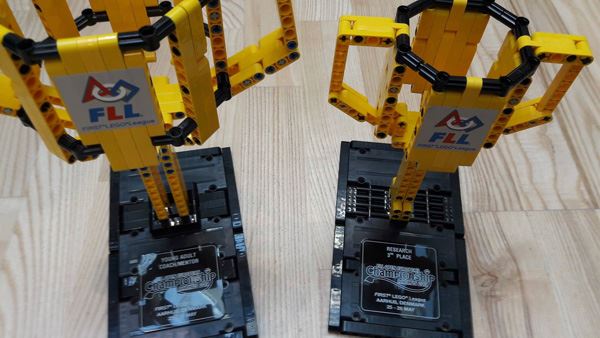 Philippine Robotics Team represented by Dr. Yanga Colleges Inc. bested 120 teams from 50 countries at First LEGO League Open European Championship 2017 and received the Young Mentor Award (Claire Renosa) in Aarhus, Denmark. Mylene Abiva met with owner of LEGO, Kjeld Kirk Kristiansen. The Philippine Robotics Team had a Courtesy Call with Ambassador Jan Top Christiansen ,Royal Danish Embassy Manila before their departure for Denmark. Benigno Aquino High School (DepEd Makati) also represented the Philippines during FLL OEC 2017.
DYCI won 3rd place , Best Project Research for their HERO project robot. A robot that prevents obesity of dogs and cats through a weighing mechanism to automatically release the right quantity of food . In addition, a mobile APP monitors the growth and vital signs of the dog or cat and relays to the owner. The MATER is a mattress that produces electricity to charge mobile phones when the master and dog/ cat plays on the mat.
Young Mentor award , Claire Renosa, coach of Dr. Yanga Colleges Inc. bested 120 coaches from 50 countries. She was a former member of the Philippine Robotics Team .
It is the first time the Philippine Robotics Team participated in First LEGO League Open European Championship. A trip to LEGOLAND in Billund and Freheden Tivoli Amusement Park in Aarhus was a delightful addition for the FLLOEC 2017. ABS CBN Global News (Europe) documented the whole event and featured the Philippine Robotics Team.Congratulations! Mabuhay ang Pilipinas. To God be the glory!