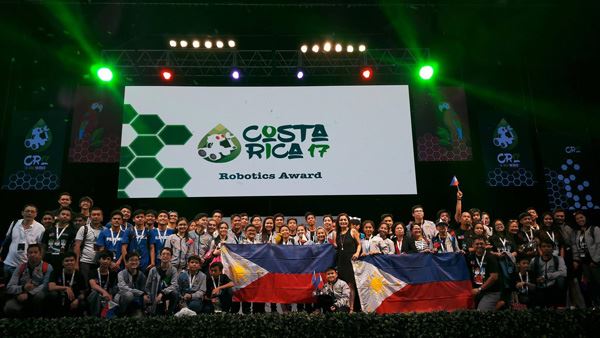 Filipinos proved brilliance and ingenuity during the recent World Robot Olympiad 2017 held in San Jose, Costa Rica last November 10-13 when they bagged the silver award.
The Philippine Robotics Team, represented by Dr. Yanga Colleges Inc., bagged the silver with their entry "Project Silid Aralan" for the Open/ Creative Category Elementary Level. The project used renewable energy from turbine based machine and their robot can manufacture Chalk from Egg shell based production process. Project Silid Aralan aims for conducive learning, energy supplication and resource improvability.
DYCI Blue Ocean from Dr. Yanga Colleges Inc., also won 5th place for the "Project Sustainable Tree" Junior High School Level, 5th and 6th place for Advance Robotics Competition College Level.
Kepler Insights based in Danao, Cebu ranked 6th place in Regular/ Technical Category Elementary Level.
"It was an honor to bring good news and glory to the Philippines, God is Good. Mabuhay and Pilipinas", said Mylene Abiva, National Organizer , Philippine Robotics Team.
The annual World Robot Olympiad gathers young people from all over the world to promote creativity, strategy, technology and problem solving skills.
For this year's theme of Sustainabots (Robots for Sustainability), 392 teams from 53 countries were challenged to build, test and program robots to show sustainable tourism, carbon neutrality and clean energy.