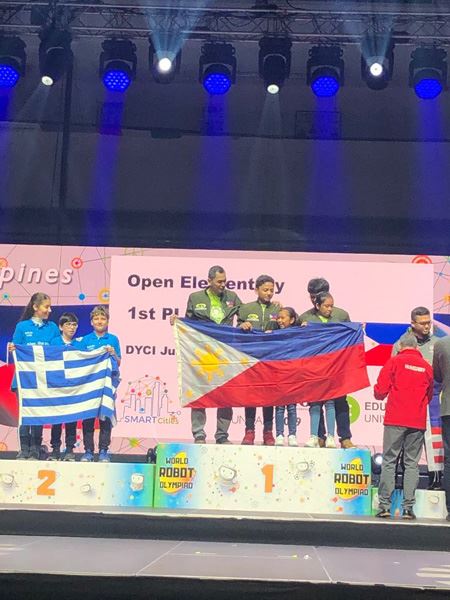 2019 is a WINNER year for the Philippine Robotics National Team! 74 countries with over 400 teams participated with 2,700 participants at World Robot Olympiad Finals Hungary held in Gyor, Hungary last November 8-10, 2019.Winning a GOLD Award for Elementary – Open Category by DYCI Junior Primes from Dr. Yanga's Colleges Inc. with the theme : Smart Cities.  VISION or the Visually Impaired Navigator aims to promote INCLUSIVE SMART CITY Education and Governance solution that can assist the visually impaired student in navigating to places. Includes Braille system and Minibot for carrying their bag. Thank you to all the schools who worked hard and represented the country . Dr. Yanga's Colleges Inc. (Bulacan), Grace Christian College , CLARET School of Quezon City, Batasan  Hills National HS (DepEd QC) , Philippine Science High School Eastern Visayas Campus (Leyte), Science & Education Technology Education Center (DepEd Lapu Lapu), Marigondon National High School (DepEd Lapu Lapu ), Marie Ernestine School Main and Northern Campus (Cebu) , Keppler Insight School (Cebu) , Caridad C Labe Education Centrex (Cebu) , iCreate Café Manila from De La Salle University and De La Salle College of Saint Benilde.
The Philippine Robotics National Team had a WINNER 2019 with the Championship Award Finalist and GOLD/ Discover and Innovate Award–FIRST LEGO League World Championship Houston, Texas ,USAfrom Dr. Yanga's Colleges Inc. and De La Salle Zobel respectively, GOLD award –FIRST LEGO League European Open Turkey , Izmir, Turkey from DYCI  , SILVER Award – Gracious Professionalism at FIRST LEGO League Asia Pacific Championship from Grace Christian College in Sydney, Australia , BRONZE award – Pitogo High School (DepEd Makati) and Project 6 Elementary School (DepEd Quezon City) for World Adolescent Robotics Competition , Chongxing, China  , GOLD award – World Robotics Friendship Invitational 2019 , Aarhus, Denmark from DYCI Novus –Dr. Yanga's Colleges Inc., GOLD Award – World Robot Olympiad Finals Hungary 2019 Gyor, Hungary – Elementary –Open/ Creative Category from DYCI Junior Primes  by Dr. Yanga's Colleges Inc.
"The Philippine Robotics National Team has shown the brilliance and ingenuity of the Filipino youth in the international Robotics and Artificial Intelligence stage ! FELTA Multi-Media continues to strengthen the STEM (Science, Technology , Engineering and Mathematics) program through ROBOTICS in Philippine Education. FELTA breeds Champions with values and brings the Filipino youth to a journey to succeed" , Mylene Abiva, President/CEO, FELTA Multi-Media Inc.
ROBOTICS FOR ALL is our quest for Philippine Education. Congratulations to the Philippine Robotics National team!