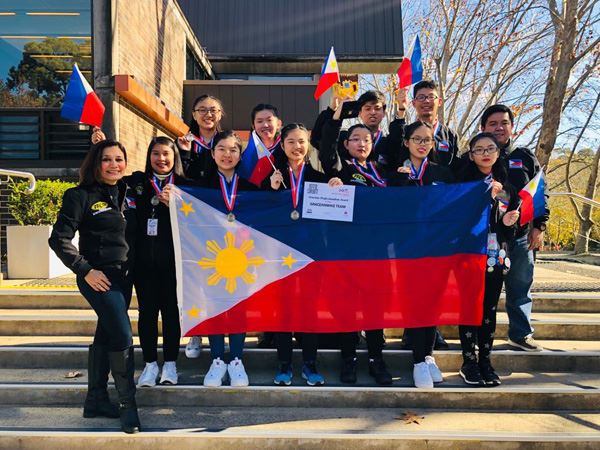 ON A ROLL. The Philippine Robotics National Team takes the world stage again after their victories in the FLL in Houston and FLL in Turkey. The Team (represented this time by Grace Christian College) pose with Ms. Mylene Abiva of FELTA Multi-Media (leftmost) at the FLL Asia Pacific Open Championship 2019 held last July 4-7, 2019 in Sydney, Australia. Photo courtesy of FELTA.
Press Release from SEI-DOST
Philippine Robotics Team bags SILVER at "Down Under" Australia
MANILA, Philippines – The Philippine Robotics National Team claimed victory for the Philippines at the FIRST Lego League (FLL) Asia Pacific Open Championship held on 4-7 July 2019 in Sydney, Australia.
This time represented by Grace Christian College, the Team received the SILVER Award for Gracious Professionalism in the competition that engaged 43 teams (over 400 students) from 21 countries.
Gracious Professionalism originated in FIRST (For Inspiration and Recognition of Science & Technology), which is the Ethos of encouraging high quality work, emphasizes the value of others and respects individuals and community. With Gracious Professionalism, fierce competition and mutual gain are not separate, thereby improving both competitors.
Grace Christian College also Ranked Top 7 in the Robot Game and received high accolade for their project, the INFINITY BOARD, an innovative solution that brings recreational activities in space to a whole new level by introducing a portable tabletop board game system that incorporates augmented reality and classical board games with microgravity to its advantage. This project aims to eliminate the monotony of astronaut's routines during their free time. The theme of First LEGO League is INTO ORBIT.
Livingstone International School from Angeles City also represented the Philippine Robotics National Team and received Top 3 in Teamwork – Core Values for their Project Spirulina, which focuses on the cultivation of Spirulina, a Bioluminescent bacteria and Kilo power for the production of energy in space.
Dr. Josette Biyo, Director of the Department of Science and Technology-Science Education Institute (DOST-SEI), congratulated the participants and thanked the national organizer, Felta Multi-Media, for another hard-earned and deserving victory in international robotics arena. "These are truly impressive wins and indicative of Filipinos' growing interest and talent in robotics. But more than that, we thank the team for exemplifying the values we hope all our young scientists would possess," Dr. Biyo said.
The SILVER Award won by Grace Christian College at FLL Asia Pacific Open Championship 2019 in Sydney, Australia marks the end of the FLL Season 2019. Other awards won by the Philippines were the Championship Award (Finalist) by Dr. Yanga's Colleges Inc. at FLL World Championship 2019 Houston, Texas, USA (April 2019) and Gold Award – Project Presentation by Dr. Yanga's Colleges Inc. at FLL European Open Invitational Turkey 2019, Izmir, Turkey (May 2019). (30)
MEDIA CONTACT:
Lovely B. Aquino
Information Officer III
seimedia2011@gmail.com
(632) 837-1925