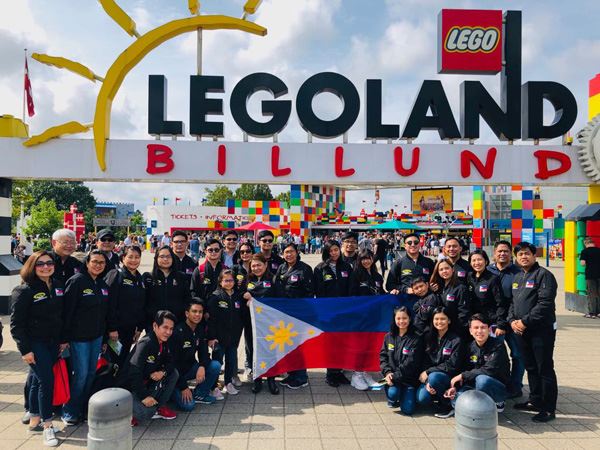 The Philippine Robotics National Team bagged the Gold Medal in the World Robot Olympiad Friendship Invitational (WROFIT) 2019 held from August 1-4, 2019 in Aarhus, Denmark. 150 teams from 33 countries participated in the event.
The delegation represented by Team DYCI NOVUS from Dr. Yanga's College Inc. , Bocaue, Bulacan won Gold in the Senior – Open (Creative) Category with the project SMART Governance or ALAB (Anti-Adversity Link for Aid and Benefit) with is an efficient, innovative and organized way of providing aid in addressing natural and man-made calamities all over the world through smart governance Technology. Team members include Doneth Dela Rama, Naiah Mendoza and Jaren Perez with head Coach Mr. Beryl Jhan Cruz and Assistant coach Ms. Anne Raz. They were also accompanied by the DYCI President, Dr. Michael Yanga.
The theme of the World Robot Olympiad is SMART CITIES.
Meanwhile, Team Nexus from Livingstone International School, Angeles, Pampanga ranked 4th place in Smart Cities Junior High Open Category (ages 13-15 years old).
Their project CIUDAD (City of Urban Discoveries and Development) aims to provide solutions to every city's obstacles such as air and water pollution and renewable energy.
The team is composed of Krischell Anne Faust, Amelia Fernandez and Paolo Palanisamy. They were lead by Coach Michael Cunanan and LSIS Principal Mrs. Amy Tumagoy.
Ms. Mylene Abiva, President/ CEO (FELTA Multi-Media Inc) led the Philippine delegation and was also selected as Head Judge in Open Category during the event.
"The complexity, technology has evolved. Even at the at an early age, the concepts of Artificial intelligence and machine learning with technology will be adapted in our everyday life" Abiva said.
Other schools in the Philippine Robotics National Team included : San Beda College of Alabang,  JJAL Learning Center in Olongapo and De La Salle Santiago Zobel.
The Philippine Robotics National Team is set to compete in the World Robot Olympiad FINALS in Gyor, Hungary on November 8-10, 2019.