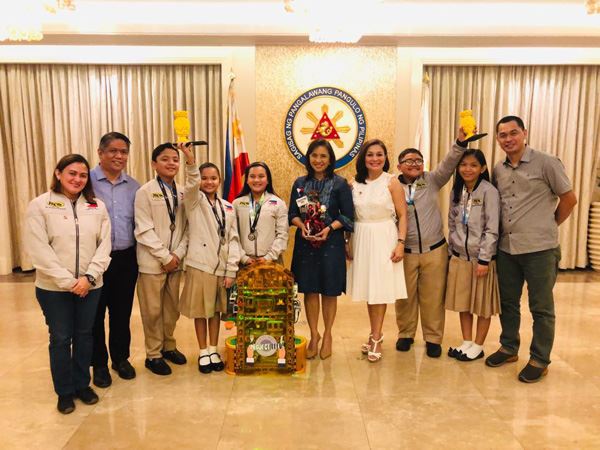 The Office of the Vice President of the Philippines VP Leni Robredo invited the Philippine Robotics National team for a Courtesy Call.The Philippine Robotics National Team  SILVER Awardee (2017) at World Robot Olympiad Costa Rica for their Robot SILID ARALIN  can make chalk from egg shells with the theme "Sustainability"  and SILVER Awardee (2018 ) World Robot Olympiad Thailand  both represented  Dr. Yanga Colleges Inc went to the Office of the Vice President Robredo.  The Silver awardees (2018)  presented their award winning robot PROJECT FEED which is a portable Back Pack that can cook potato cubes and make edible water as the theme of the World Robot Olympiad Thailand 2018 is "Food Matters". President of Dr. Yanga Colleges Inc.,  Dr. Michael Yanga and coach Beryl Cruz joined the courtesy call.
Mylene Abiva, National Organizer , Philippine Robotics Olympiad / FLL Philippines presented to VP Leni Robredo the Progress Report on the Robotics Program in the country as pioneered by FELTA Multi-Media Inc . Ms. Abiva showed the report on World Robot Olympiad Friendship Invitational 2018 in Cebu  organized by FELTA .FELTA has been bringing the Gold/Silver Awardees of the Philippine Robotics team to the Highest Officials of the Philippine government since 2001.The Philippine Robotics Team built a "Catriona Bot"   a robot version of Miss Universe 2018 Catriona Gray (Philippines) and presented to Vice President Leni Robredo as a token. The robot can do a Lava walk and can wave the Philippine flag.
Vice President Leni Robredo gave her full support for Science, Technology , Engineering and Mathematics (STEM) programs in the Philippines . Robotics encourages the Filipino Youth to be future engineers, scientists and inventors.