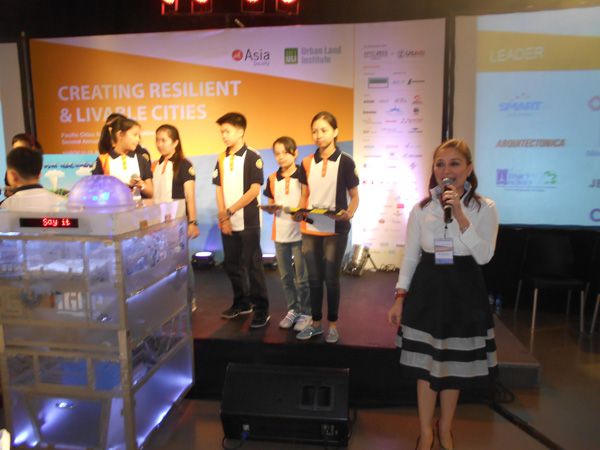 Urban Land Institute and Asian Society, composed of climate change scientists, real estate developers, academe and local government officials held an International Convention at the Manila Peninsula and Mind Museum last March 11-13, 2014. Philippine Robotics Team made "Emergency Safe Haven" projects made out of LEGO bricks. ULI gave the schools Cash Prizes.
Philippine Robotics Team, awardees of the 3rd FLL Philippines represented by Dr. Yanga's College Inc., presented AHON (All-around homing operative of Nature) an advanced early warning system capable of detecting flood, earthquake, tsunami and wildfire. As well as AGAP (All around Goods Assistance Processor) which is an autonomous repacker and distributor of relief goods and first aid kits.
Dr. Caridad C. Labe Centrex, from Lapu Lapu,Cebu presented their Folding House, which has a pyramid structure, wind impact is less due to its diagonal surface and minimal wind force catchment and another typhoon resilient house with perforating & undulating walls, eave-less bamboo roofing with rain barrel gutter and awning windows ,in stilts.
The International participants were amazed by the creations of the students and will consider implementation in real life typhoon resilient homes.