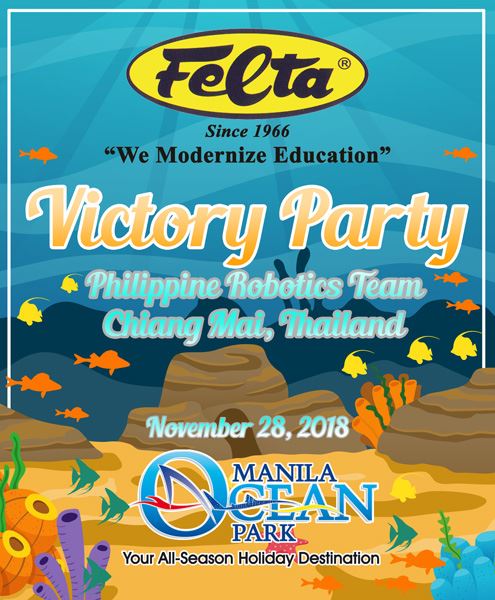 FELTA Multi-Media Inc. sponsored the annual Philippine Robotics NATIONAL Team (Luzon) Victory Party at Manila Ocean Park to celebrate the SILVER Award Open/ Creative Category Elementary level won by Dr. Yanga's Colleges Inc. during the World Robot Olympiad Finals 2018 held in Chiang Mai, Thailand last November 15-19, 2018.
Our goal has always been to bring inspiration to children and young people to be the BEST they can be from the experience of participating in the Philippine Robotics NATIONAL team and representing our country in the World Robot Olympiad Finals with 63 countries and 486 teams who participated.
Manila Ocean Park is a spectacular world class marine themed park enjoyed by the students and coaches. FELTA Multi Media continues to reach more schools in Luzon to promote STEM (Science, Technology, Engineering and Mathematics)through Robotics. Filipino LEGO Education Senior Designer Lee Magpili  (based in LEGO Education HQ in Billund, Denmark)joined the Philippine Robotics National Team as Guest of Honor.