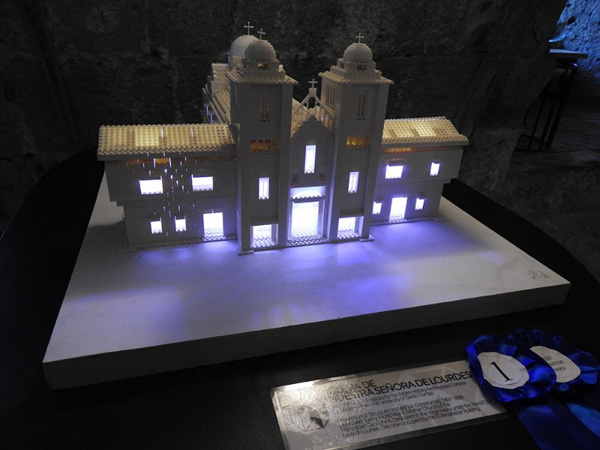 Manila, Philippines – Past meets present in iMake History Fortress' LEGO brick models of the churches of Old Manila created by college students from all over the Philippines for the iMake History Architecture Scale Model Competition held at the Baluarte de Santa Barbara, Fort Santiago, Intramuros.
Architecture students from the University of Santo Tomas (UST) emerged triumphant in the lego-building competition, which is also a glimpse of the modernized cultural heritage and history education that the iMake History project offers to the youth.
UST was among the 12 teams that ventured into the LEGO fortress-building competition, winning first place after building an impressive LEGO brick model of the Lourdes Church, rebuilt in Quezon City after the damage it acquired during the Japanese occupation of Intramuros.
The team received Php 50,000, and garnered the Most Innovative Award.
Meanwhile, the team from Don Bosco Technical College won second place for their picturesque scale model of the Recoletos Church. The team received 30, 000 pesos cash prize.
The National University won third place and received Php 20, 000 cash prize for their stunning imitation of Santo Domingo Church in Quezon City.
As a passionate advocate of history, culture and creativity, Tourism Chief Wanda Tulfo-Teo noted the role the event will take in encouraging young Filipino visionaries, especially architecture and engineering students, to learn more about their craft, identities and the notable events that shaped structures and society as we know today.
"In opening the iMake History Fortress as an adaptive reuse of the Baluarte de Santa Barbara, we are teaching as well our youth, the millennials, to appreciate the history and culture off the Philippines in a new light," said Teo in her keynote speech.
Brian Dam, Territory Manager of LEGO Education also noted in his speech the importance of learning history at present.
"Understanding the history of a country is of course key in what has brought us to where we are, what has been the historical challenges of the past generation and what were their limitations, because by looking at history, we can start shaping the future." said Dam.
The Baluarte de Santa Barbara is now re-purposed to house the LEGO brick models of the buildings of Old Manila built by the 12 teams that participated in the competition, as well as the Philippine Eagle robot.
The creative space features LEGO learning materials, trainings fostering interactivity, modules on architecture and early engineering, history and computer programming activities as well as materials showcasing the historic architectural grandeur of Intramuros and the Philippines.
Launched in August 2017, the Fortress is expected to be fully operational by April or May 2018 and will be open from 8:00 AM to 6:00 PM.
The event was sponsored by the Department of Tourism (DOT) thru the Intramuros Administration (IA) and its partners – Felta Multi-Media Inc., Lego Education and the Royal Danish Embassy.

Public Affairs, Communications, and Special Projects
Philippine Department of Tourism
351 Sen. Gil Puyat Ave., 1200