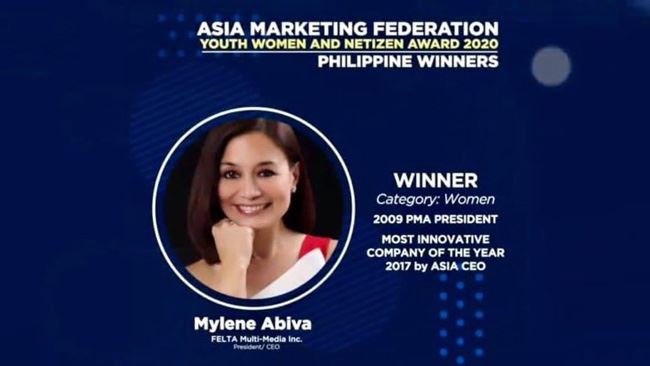 Asian Marketing Federation is a collaboration platform for all Marketing associations in Asia. Member countries: Bangladesh, Cambodia, China, Hong Kong, Indonesia, Japan, Korea, Macao, Malaysia, Mongolia, Myanmar, PHILIPPINES, Singapore.
Mylene Abiva , President/ CEO , FELTA Multi-Media Inc, received the "Asia's Top Outstanding Woman Marketer 2020". A victory for the Philippines

!
Asian Marketing Federation President Mr. Boonjong Kim was the Keynote Speaker and announced the three (3) winners of the "Youth Women Netizen Award 2020" during the Philippine Marketing Association Forum on Filipino Marketers on the Asian Stage held last April 14, 2021. Philippine Marketing Association President Lucien DyTioco gave the Welcome Remarks.
Other winners are : Ana Aboitiz-Delgado (Women Category), Chief Customer Experience Officer and Chief Digital Channels Officer -UNION BANK and Joseph Albette R. Buddahim, Chief Executive Officer – KATAPULT DIGITAL CORP.
Thank you Asian Marketing Federation and the Philippine Marketing Association.
Congratulations Mylene Abiva for uplifting Women Filipina Marketers in the Asian Stage.