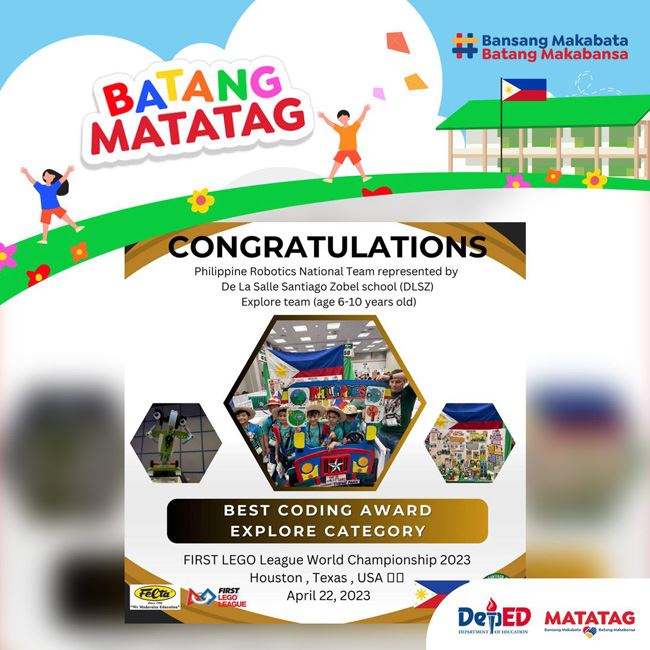 BATANG MATATAG | FILIPINO KIDS ARE GREAT, TOPPING IN THE FIRST LEGO LEAGUE ROBOTICS COMPETITION
The group "The Brick Titans, Philippines" composed by Thoren Garcia, Markus Bellezza, Raphael Dollente, Brent Escalona, Carlo Ramos and Hugo Tan, students of De La Salle Santiago Zobel (DLSZ) in Muntinlupa City proved the talent and talent of Filipino children after achieving the Best Coding Award under the Explore Division (ages 6-10) of the FIRST Lego League (FLL) World Championship held in Houston, Texas, USA.
Using Lego pieces, the DLSZ Brick Titans created a model of a sustainable community theme park powered by renewable sources such as air, sunshine, water and biomass.
Their programming and coding prowess paved the way for them to run the model like a real theme park and choose their design from 98 competing entries.
With the theme SUPERPOWERED, this competition season aspires to highlight the global need for sustainable energy and solve it through fundamental engineering.
FLL encourages young people to become future engineers, scientists, and inventors by providing opportunities to sharpen their knowledge in early designing, engineering and computing to expand the use of robotics in their schools and solve the world's problems.
#MATATAG #BansangMakabata
#BatangMakabansa
#DepEdPhilippines