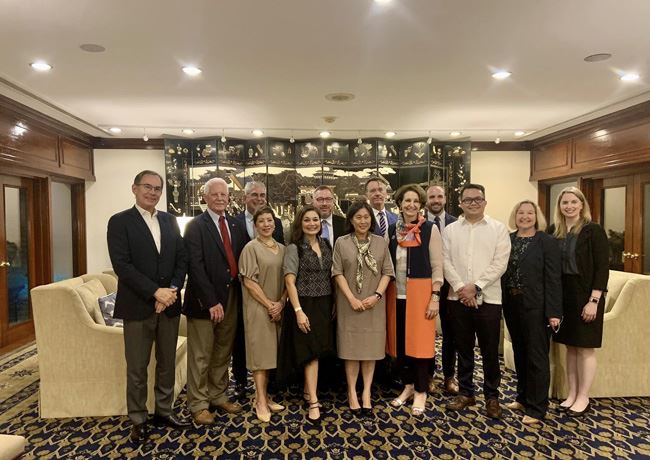 FELTA President /CEO Mylene Abiva was invited to an intimate Business Dinner to welcome U.S. Trade Representative Ambassador Katherine Tai at the residence of U.S. Ambassador to the Philippines Ambassador Mary Kay Carlson.
Ambassador Katherine Tai was sworn in as the 19th United States Trade Representative on March 18, 2021. As a member of the President's Cabinet, Ambassador Tai is the principal trade advisor, negotiator, and spokesperson on U.S. trade policy.Ambassador Tai is an experienced World Trade Organization (WTO) litigator. She previously developed and tried cases for the Office of the United States Trade Representative, eventually becoming the Chief Counsel for China Trade Enforcement. Before transitioning to federal service, she practiced law in the private sector, clerked for district judges, and taught English in Guangzhou, China.
Mylene Abiva represented
Felta MultiMedia
along with Business tycoons Jaime Augusto Zobel de Ayala (Ayala Corporation) , Sabine Aboitiz ( Aboitiz Group / Presidential Advisor for Entrepreneurship) , Ralph Morales (Texas Instruments) , Paul Taylor (US Senior Commercial Officer) and Director Emily Fischer (US Trade Director for Southeast Asia and the Pacific).
FELTA Multimedia is a Microsoft Global Training Partner , INTEL OEM , Gear Box Lab Robot distributor and represents several U.S. Tech companies in the Philippines.