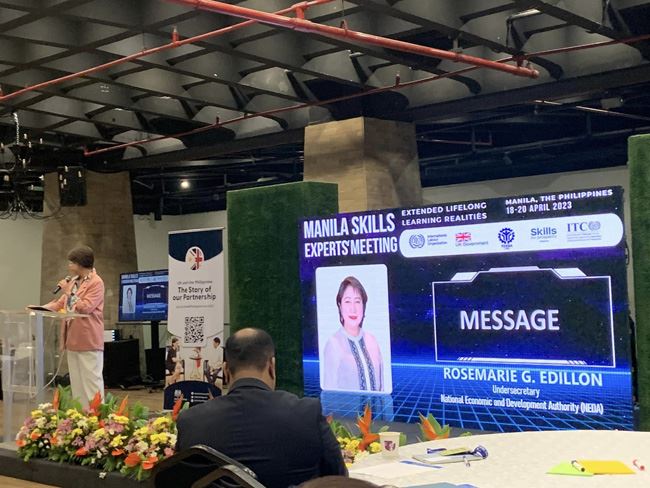 Gearing up for the Fourth Industrial Revolution, the Technical Education and Skills Development Authority (TESDA), in partnership with local and international stakeholders, kicked off the three-day Manila Skills Experts' Meeting on Extended Reality (XR) was held April 18 – 20 at Green Sun Hotel in Makati City.
The three-day Manila Skills Experts' Meeting was conducted until April 20 in partnership with the International Labor Organization (ILO) through its Skills for Prosperity Programme funded by the United Kingdom government, the International Training Centre of the ILO (ITCILO), the European Training Foundation (ETF), and the Inter-Agency Council for Development and Competitiveness of Philippine Digital Workforce.
The meeting aims to present innovative solutions for skills development and lifelong learning in the field of XR and facilitate detailed discussion among national stakeholders on how to best apply these solutions to the context of the Philippines.
Present during the meeting were high-level public policymakers, local lifelong learning-focused authorities, TVET and academia experts, industry representatives, and XR technology developers.
According to Director General Danilo P. Cruz, the meeting will also provide a platform for stakeholders to work multilaterally, and for them to review together the existing XR solutions to identify areas for potential adoption in the Philippines.
Felta MultiMedia

is the Exclusive Partner of EON Reality , a leading XR software platform provider . FELTA Techvoc Academy Master Robotics Teacher

Annalyn Aban

gave a talk on EON XR and Extended Realities as a Lever for Lifelong Learning. FELTA President

Mylene Abiva

and FELTA Tech team members

Jed Sazon

Lance Alavazo Aban

Jovin Cinco assisted the participants in exploring EON XR software platform during the event.
"This meeting specifically supports our ongoing efforts to strengthen skills assessment and certification programs and lifelong learning mechanisms in the country. The learnings from today's forum will also be very useful, especially in pursuing digitalization, modernization of the Philippine skills development ecosystem, and in strengthening TESDA's overall institutional capacity," he said.