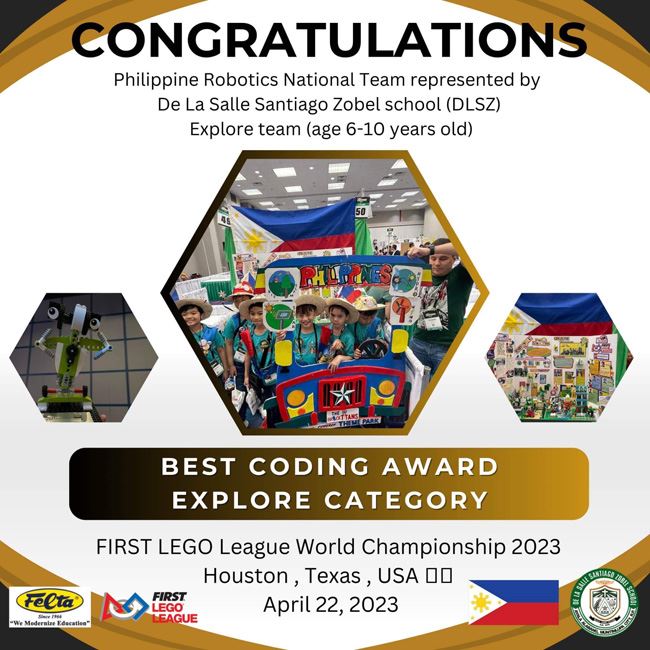 FIRST LEGO League, a science, technology and educational event which aim to offer our country's promising elementary and secondary students and opportunity to expand their horizons through the exploration of robots and robotic systems in schools. Moreover, it aims to provide a host of opportunity to stimulate early design, engineering and computing skills highly relevant towards progressive education. For Inspiration and Recognition of Science & Technology (FIRST) is a foundation based in Manchester, USA  which partnered with LEGO Education. Over 90 countries participate in the event annually.
FIRST LEGO League encourages our youth to be future engineers, scientists and inventors to help our country to be  technologically driven. Philippine Robotics National Team represented by De La Salle Santiago Zobel (DLSZ) Explore Category (age 6-10) BEST CODING AWARD at FLL World Championship 2023.
FELTA Multi-Media Inc., is the National Organizer, 12th FIRST LEGO League Philippines and the national awardees represented the Philippine Robotics National Team in FIRST LEGO League World Championship 2023 in Houston, Texas, USA last April 18-22, 2023.
"FIRST LEGO League Philippines is providing a wealth of experience for the youth and prepare them to be the workforce of the Future equipped with 21st Century Skills. They truly will have an advantage since we encourage more scientists , engineers and inventors for Nation Building . We are proud of  DLSZ Brick Titans team age 7-9 year olds as they competed with 98 other teams" Mylene Abiva, President/ CEO, FELTA Multi-Media and World Robot Ambassador.
This season's  theme:  SUPERPOWERED , teams across the world will reimagine the future of sustainable energy and power their ideas forward.  Philippine Robotics National Team DLSZ Brick Titans built a new town away from sadness. The superheroes provide scientists solar, hydro, wind and biomass energy to power up an  abandoned theme park. They build a sustainable Superpowered Theme Park that use renewable energy sources.
Another Philippine Robotics National Team, DLSZ Foundation , also from De La Salle Santiago Zobel (DLSZ) participated in the CHALLENGE Category.
FELTA Multi-Media Inc., has a Memorandum of Agreement with the Department of Education (DepEd) and the Department of Science and Technology – Science Education Institute (DOST-SEI) for the promotion of Science, Technology, Engineering and Mathematics (STEM) in the Philippines.
For more information, please contact Donna Ermitanio, Robotics Coordinator, FELTA Multi Media at email: feltamultimediainc@gmail.com
Filipino kids win at Lego League competition in Houston