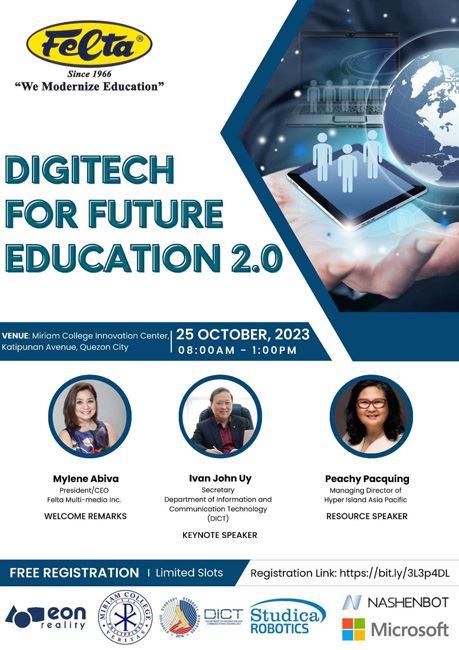 Felta Multimedia Inc., a leading innovator in educational solutions, organized the "Digitech for Future Education 2.0, a groundbreaking event focused on showcasing cutting-edge technologies for senior high school and higher education institutions. Ms. Peachy Pacquing, Managing Director, Hyper Island Asia Pacific (Singapore)  was the Guest Speaker and spoke about "Calling on Chiron", Future Skills in the Age of Human -AI Collaboration.
FELTA Mutli Media Inc. is honored to have as Keynote Speaker, Secretary Ivan John Uy, Department of Information and Communications Technology (DICT). Secretary Uy highlighted Augmented Reality (AR) Learning Solutions Experience and how AR enhances traditional classroom learning by providing immersive, interactive, and engaging educational content. Host venue was at the prestigious Mirriam College Innovation Center.
"The event aim to revolutionize the education landscape by fostering the adoption of emerging technologies that elevate the learning experience and prepare students for the challenges of the future", Mylene Abiva, President/ CEO , FELTA Multi-Media Inc.
Digitech for Future Education 2.0 brought together educators, administrators, technologists, and policymakers to explore the latest advancements in educational technology. The event featured interactive demonstrations, presentations, and panel discussions, providing attendees with valuable insights into the potential of these innovations.