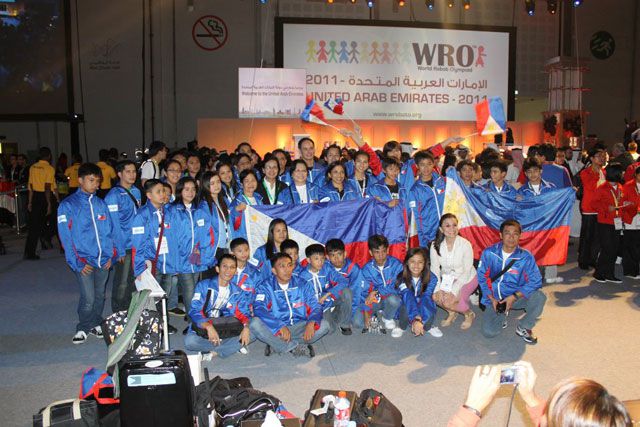 The World Robot Olympiad 2011 is an ideal platform for students ages 10-18 years old to develop a range of both technical and practical life skills. As young robotic experts, they are being prepared to become active participants of our increasingly technology-driven global economy.
This year, for the first time, the 8th World Robot Olympiad was hosted in Abu Dhabi, a country in the Middle East known for its rich traditions and hospitality. Some 1,500 students from thirty three (33) countries participated in the robotics event.
The Philippine Robotics Team , with a delegation of 60 students, coaches, school administrators and parents participated in the WRO 2011 with much excitement and some internal pressure . "We hosted the World Robot Olympiad 2010 in Manila, Philippines and would like to exceed our performance last year", said Mylene Abiva, National Organizer-Philippine Robotics Olympiad.
Dr. Yangas College , received the BEST TECHNICAL AWARD -Junior High School Level (Open Category) with head coach, Beryl Jahn Cruz and team members, Alexandra Guevarra, Chelsea Morales and Claire Renosa. They also garnered the 4th place in the Open Category (Junior HS level) while International School Manila placed 5th place in the same category.
Philippine Science High School – Bicol Campus ranked 5th place among the 65 teams who competed in the WRO GEN II Robot Football .
The other Philippine Robotics Team composed of Grace Christian College (Elementary and High School), First Asia Instittute of Technology & Humanities (FAITH), Comembo Elementary School, and Tibagan Elementary School.