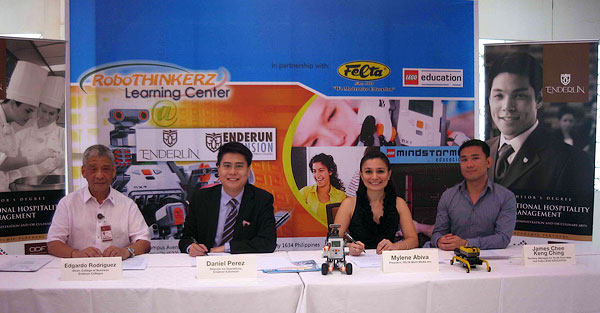 OPENING OF ROBO THINKERZ LC @ ENDERUN COLLEGES
The ROBO THINKERZ Learning Center @ Enderun Colleges will be a venue for Robotics training, robotics skills enhancement, in-house robotics competitions, and a place to showcase modern technology and innovative robotics programs.
Enderun Colleges, a world-class and prestigious College and FELTA Multi-Media Inc. , the pioneer and leader in robotics education in the Philippines with LEGO EDUCATION has partnered to provide the FIRST Robotics Learning Center for elementary and high school level. A Robotics Curriculum for Beginners , Intermediate and Advanced levels will provide an opportunityfor students to explore robots and robotic systems.
The Robo Thinkerz will be a virtual and locomotive adventure in the field of Science and Technology. It can do wonders on the creative penchant of the country's future engineers and scientists through interactive learning with early engineering and a computer programming Curriculum. The students have scheduled after-school sessions, robotics tutorial classes and weekend workshops.
"The Robo Thinkerz will provide the best educational robotics resource for our students", said Mylene Abiva, President/CEO, FELTA Multi-Media Inc.
"Robo Thinkerz will be a fun and exciting educational experience!" according to Danny Perez, Director for ENDERUN Extension.
For more information, please contact Florence Elumba, Florence.elumba@enderuncolleges.com ,or call 856-5000 or visit www.enderuncolleges.com