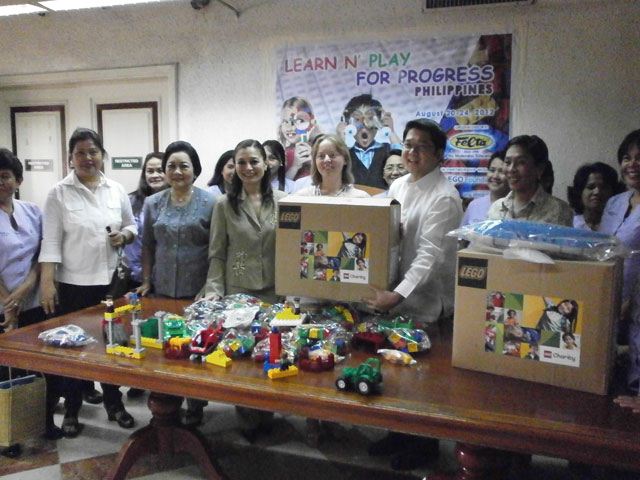 LEGO Foundation in partnership with FELTA Multi-Media Inc. conducted a Day Care Teacher's Training for 100 Day Care Teachers of Quezon City in coordination with the Social Services Development Department -City of Quezon City (SSDD-QC) . The Day Care Centers in Quezon City were identified as Informal Settlements or Urban Poor . Ms. Hanne Jensen, Educational Advisor, LEGO Foundation conducted the Day Care Teacher Trainings. Day Care Teachers were given "Back to Basics" Lesson Plans as well.
The objective of LEARN N' PLAY FOR PROGRESS- Philippines is to uplift the skills of Day Care Teachers using LEGO Duplo and Bricks. In addition, to improve the Early childhood academic foundation for pre-school children living in Urban Poor areas of Quezon City. The project will benefit 12,000 pre-school children annually.
The official Turnover Ceremonies of the LEGO Charity Boxes was held at Quezon City Hall with Mayor Herbert Bautista , witnessed by Mrs. Tita Abiva (Director-FELTA), Mylene Abiva (President/CEO-FELTA), Hanne Jensen (LEGO Foundation), Ms. Tess Mariano (Head,SSDD-QC) , Ms. Maribel Cayco (SSDD-QC) and Day Care Teachers.