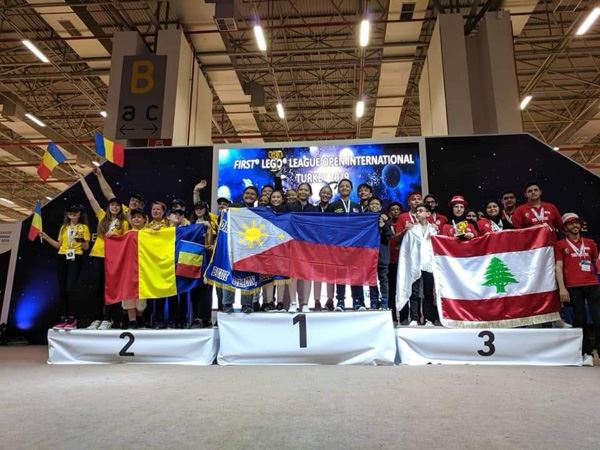 Press Release from SEI-DOST
The future looks bright for Philippine robotics.
Fresh from a double victory at the For Inspiration and Recognition of Science and Technology (FIRST) Lego League (FLL) World Championship held in USA last April 2019, the Philippine Robotics National Team bagged another gold medal at the recent FLL European Open International Turkey 2019 last May 22 -26, 2019 in Izmir, Turkey.
The national delegation, represented this time by Kid Imagineers from Dr. Yanga's College Inc., came home victorious after winning a Gold Award for Project Presentation and Finalist on Project Research. 82 teams from 41 countries and over 600 students (ages 11-17 years old) participated in the competition.
The theme, "Into Orbit", challenged students to find solutions to physical and social problems associated with long-duration space flight.
The team won for Project Mu.S.C.A., an innovative, effective and systemized way of helping astronauts solve musculoskeletal problems they face during their stay in orbit. The suit gives a solution to different physical problems such as bone loss and loss of muscle mass in microgravity environment of space. The Project Mu.S.C.A is a self-adjusting suit that can monitor the astronauts' pulse rate, exercise their legs and arms, help them maintain proper posture in space, massage their arms and legs, help attain the right temperature for their body and protect astronauts from radiation.
The Kid Imagineers from Dr. Yanga's College Inc. is composed of team members Gwyneth Sabusap, Aaron James Amar, Andrea Luz Guevarra, Daniella De Guzman, Annette Nicole Ambi, Nicole Flores, Shervie Dela Cruz, Gabriel Ortega, Michael Ronnie Estrella, Renz Daren Flaviano, with Assistant Coach RV Mendoza and Coach Romyr Gimeno.
Mylene Abiva, FELTA Multi-Media Inc. President/CEO, led the delegation and was selected as one of the judges during the event. Among the 41 judges, she was the only judge to represent Southeast Asia.
"Human space exploration helps address fundamental questions about our place in the Universe. Space Exploration drives us to explore the unknown, discover new worlds and push the boundaries of our scientific limits. Hopefully, with the victory of the Philippine Robotics National Team, the Philippine government will initiate a Space Education Program for the Filipino Youth," Ms. Abiva said.
The Department of Science and Technology-Science Education Institute (DOST-SEI), through its Director, Dr. Josette Biyo, congratulated the team and thanked the national organizers for their efforts in helping young Filipinos' maximize their potential in robotics.
"The Philippine National Robotics Team made the country proud and opened doors for future robotics experts. Robotics will play a crucial role in the country's transition to Industrial Revolution 4.0. These victories will help us gain traction to push for more youth science programs that would prepare the youth for jobs of the future," Dr. Biyo said. (30)
MEDIA CONTACT:
Lovely B. Aquino
Information Officer II
(632) 837-1925