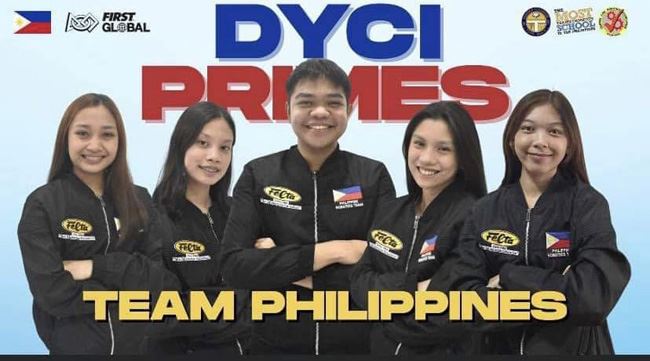 Philippine Robotics National team represented by DYCI Primes Robotics team will participate in FIRST Global Challenge, Geneva, Switzerland on October 13-16, 2022. FIRST (For Inspiration and Recognition of Science & Technology) Global Challenge since 2016 is the largest competition in the world with over 160 countries participating.
After 2 years of virtual event, the Philippines will join future STEM leaders in Geneva, Switzerland ?? in an engaging and collaborative competition that drives home the importance, excitement and applicability of STEM education. FIRST Global is using robots to build youth that have self confidence, skill sets , imagination , courage and vision to make their marks in the world.
DYI Primes Robotics team is composed of:
1. Daniella Angela de Guzman
2. Nicole Flores
3. Dwane Denzel Hipolito
4. Kristin Lana Bernardino
5. Stacy Cruz
And Coach Beryl Cruz  and accompanied by DYCI President Dr. Michael Yanga .
DYCI Primes won 6 matches at FIRST Global Challenge Geneva, Switzerland 2022. Using advance robotics REVA.
This year 2022, the theme is CARBON CAPTURE.  Mabuhay ang Pilipinas. God Bless!