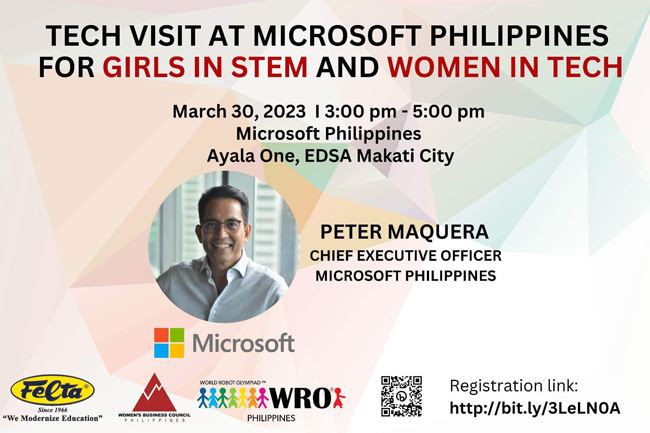 Microsoft is the largest vendor of computer software in the world. It is also a leading provider of cloud computing services, video games, computer and gaming hardware, search and other online services.
Felta MultiMedia
is a Global Training Partner (GTP) in the Philippines
since 2013. In 2020, FELTA Multi-Media received the Microsoft "Best in Minecraft Education Edition " during the Microsoft APAC conference.
TECH VISIT FOR GIRLS IN STEM AND WomenbizPH WOMEN IN TECH with Microsoft Philippines CEO Peter Maquera, Women's Business Council Philippines Chairperson/Felta Multimedia President & CEO Mylene Abiva Women's Business Council Philippines Members Atty. Dulce Blanca Punzalan, Engr. Ma. Cecilia Domingo & Tonichi Achurra-Parekh and Philippine Robotics National girl Team members and Coaches in celebration of International Women's Month.
FELTA Minecraft Education Edition Ambassador Sofia Celyn Aban shared her Minecraft Journey . A site visit in Microsoft Philippines office was given to the group.
#WomeninICT #WomensMonth2023 #IWD2023