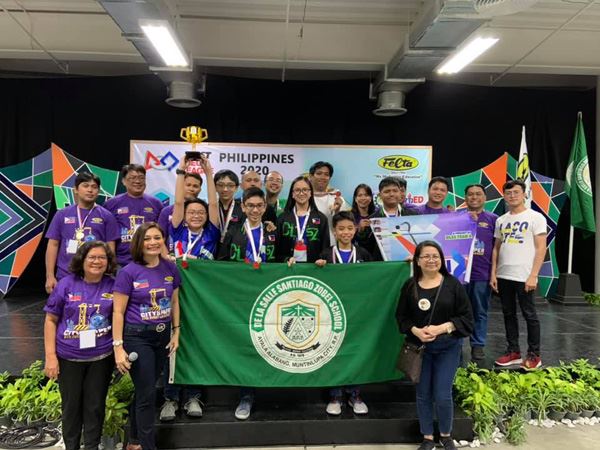 FIRST LEGO League is an international program for children , created in partnership between FIRST Foundation and The LEGO Group in 1998. FLL introduces introduce children to the fun and experience of solving real-world problems by applying math, science  and technology. Each year, more than 389,000 children ages 9 to 16 years old from Eighty five (85) countries participate.
This year 9th FLL Philippines was held for the first time at De La Salle Zobel Vermosa Campus. Over 350 students from different schools , coming from as far as Lapu Lapu City , Cebu   participated in this annual  Robotics Challenge for teams to  engage them in authentic scientific research and hands-on robotics design using LEGO Education Robotics technology.
This year 2020, the theme is "CITY SHAPER "  and "BOOM TOWN" .To come together for a thriving community brimming with inspiration, creativity and hope for a stronger, more sustainable culture and solve problems. To help build cities, towns and places to reach new heights as scientists and engineers.
"The overall vision and mission of FLL Philippines is to inspire young people's interest and participation in Science and Technology", said Mylene Abiva, National Organizer , FLL Philippines and the Philippine Robotics Olympiad. "The students will want to learn more about computers and robotics, and they will pursue Engineering,  Computer Science or other Science and Technology course in University". Abiva added.
The winner of the CHAMPION'S AWARD of 9th FLL Philippines is De La Salle Zobel for both FLL (age 12-16 )and FLL Jr (age 6-9) they will represent the country to the FLL World Championship to be held at the George Brown Convention Center, Houston, Texas, USA on April 14-19, 2020 to compete with 85countries. Grace Christian College and Claret School of Quezon City on the other hand will represent the Philippine Robotics National Team for the FLL European Open Invitational GREECE to be held in HelExpo , Thessaloniki, Greece on May 11-17,2020.
The 9thFLL Philippines is sponsored by: INTECO Isuzu Group of Dealerships, American Airlines , Disney Company (Philippines) , De La Salle Zobel Vermosa Campus as host venue . For more details, please contact Ms. Coni Peralta, c/o FELTA Multi-Media Inc., tel : (63)8912-1397 or email: feltamultimediainc@gmail.com or visit www.felta.ph.