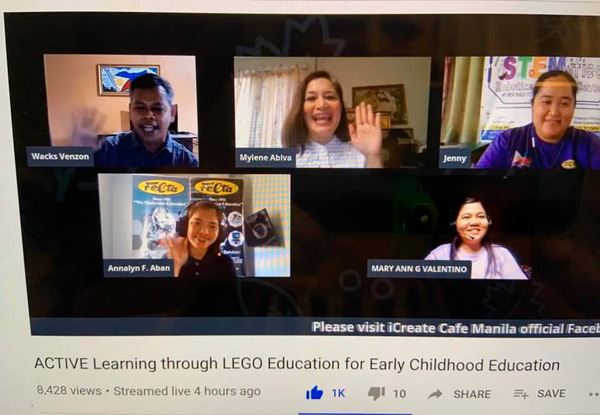 FELTA inked a partnership with Philippine Alliance for Open Educational Resources (PAOER), a Non-profit and SEC registered organization committed to provide accessible , high quality and efficient technical and skills development programs for Educators.
FELTA and PAOER Inc. conducts FREE Live Webinars to provide training through interactivity, digitalization and delivery of innovative techniques with the BAYANIHAN Spirit specially during the Covid crisis. FELTA  provided FREE LEGO Digitial Designer Software, LEGO Story Visualizer software, LEGO Education EV3 Robotics Software and Virtual Robotics FREE Trial Licenses inclusive of training and installation guide for the participants. These revolutionizing teaching techniques are valuable technology tools for educators as we adapt to the "new normal" in education.
The FREE Live Webinars are to supplement the efforts of the Department of Education and were not  scheduled to conflict the regular ICTS / Education Technology Unit Live webinars.
Initial webinars were from April to May and will continue until August in preparation for the school opening as declared by the Department of Education . The STEAM (Science, Technology Engineering, Arts and Math) Learning Series engaged  thousands of Educators, School Administrators and parents to participate. The Free Live Webinars were  live broadcasts and uploaded in You Tube Channel for review video playback. A LEGO Digital Designer Challenge, LEGO Story Visualizer Challenge and "Clean the Ocean" Theme LDD Challenge attracted over 1,600 participants. Finalists were announced last May 16, 2020 and to receive medals and certificates (virtual and physical). The Top 3 Awardees per Category will each be given a Virtual Trophy and Certificate. They will claim their physical trophy and certificate during the 19th Philippine Robotics Olympiad in October. Travel Expenses will be provided by FELTA for the awardees. 
FELTA is PAOERful! We LEARN As ONE PH!