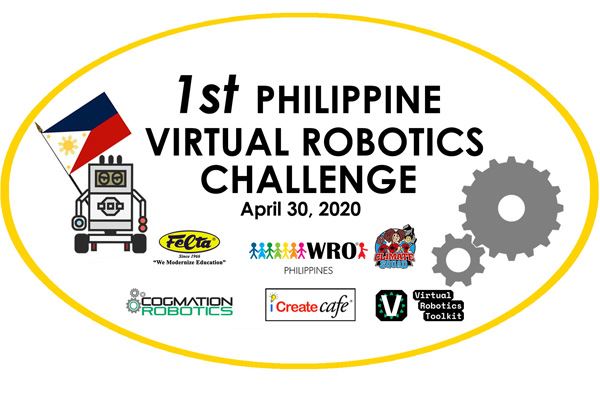 Virtual Robotics takes Education technology to a new level! Students learn problem solving, creative critical thinking, innovation, computer programming , engineering and enjoyed a healthy competition during the 1st Philippine Virtual Robotics Challenge held last April 30 ,2020.  Over 1,500 viewers from as far as Italy, USA and Canada watched the live broadcast in the iCreate Cafe Manila Facebook page.
The Theme is CLIMATE SQUAD . The Virtual Robots are given a scenario of a village hit by a severe windstorm/typhoon and electrical power is down. The students have to program their virtual robots to bring emergency supplies by going through the virtual playing field. Missions accomplished by the virtual robot are given specific points. No remote control was used during the competition. Virtual Robotics Tutorials were given to the participants to prepare for the competition.
"The Philippines is the first member country of the World Robot Olympiad to successfully host a Virtual Robotics competition during global school closures due to Covid-19. And we know that Virtual Robotics will continue to be part of the New Evolution Technology in schools even after home stay quarantine", Mylene Abiva, President, FELTA Multi-Media Inc.
Families of the participants watched and gave their virtual claps to cheer . Each participant was given a virtual Certificate of Participation and winners were awarded with Virtual trophies.  They will receive the physical certificate and trophies during 19th Philippine Robotics Olympiad Awarding Ceremonies to be held in October.
A New Evolution in Learning !