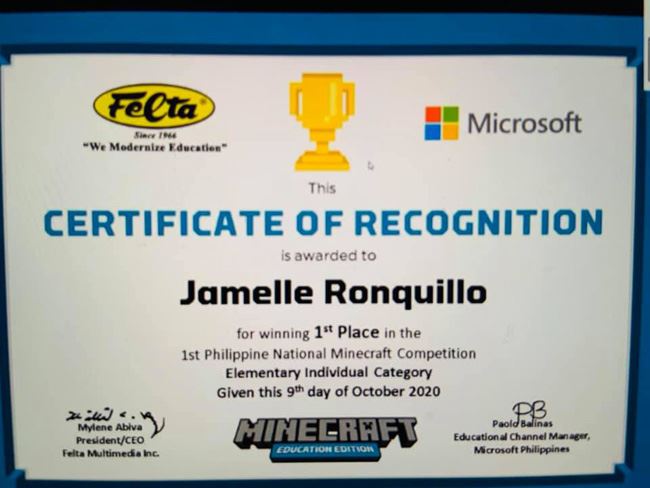 It's no secret, Minecraft has since been ported to several other platforms and is the best-selling video game of all time, with 200 million copies sold and 126 million monthly active users as of 2020.
In Minecraft, players explore a blocky, procedurally-generated 3D world with infinite terrain, and may discover and extract raw materials, craft tools and items, and build structures or earthworks. Depending on game mode, players can fight computer-controlled "mobs", as well as cooperate with or compete against other players in the same world. Game modes include a survival mode, in which players must acquire resources to build the world and maintain health, and a creative mode, where players have unlimited resources. Players can modify the game to create new gameplay mechanics, items, and assets. Minecraft Education Edition includes Code Builder feature and each player has a Code Agent.  Therefore, Minecraft Education Edition has become an efficient tool in Gamified Learning.
FELTA Multi-Media Inc. and it's Training team at iCreate Cafe Manila have been conducting Minecraft Education classes and tutorials since 2019 even before the onset of the Covid 19 Pandemic. Minecraft Education is a game-based learning platform that promotes creativity, collaboration and problem-solving in an immersive digital environment. Educators around the world use Minecraft: Education Edition to engage students across subjects and bring abstract concepts to life.
The 1st Philippine National Minecraft Competition was held last September 22-24 ,2020 (Elimination Round) and FINALS held last October 9,2020. Hundreds of students participated with a total of 49 Finalists. There is Individual Category and Group Category with Elementary and Junior High School level. Keynote Speaker was  Wendy Gorton, Minecraft Senior Program Manager, Microsoft USA. Judges were: Paolo Balinas , Microsoft Education Philippines, Enterprise Lead for Education, Grace Co, Microsoft Education Program Manager, Jomar de Leon, Microsoft Education Program Manager, Eng. Ailene Viacrusis, A+ Learning Center and Edwin Engana, Department of Education – Division of Makati City. The First place winners Individual Category: Jamella Ronquillo (Elementary level), Matias Nacario (Junior HS)  and Group Category De La Salle Santiago Zobel Team B (Elementary Level) and De La Salle Santiago Zobel Team A (Junior HS Level).
The Finalists of the 1st Philippine National Minecraft Competition will represent our country in the MINECRAFT GLOBAL BUILD CHAMPIONSHIP. The theme is  about the U.N. Sustainable Development Goals. Entries will be submitted to Microsoft Education from October 3-November 3. The winners will be announced on December 4, 2020.