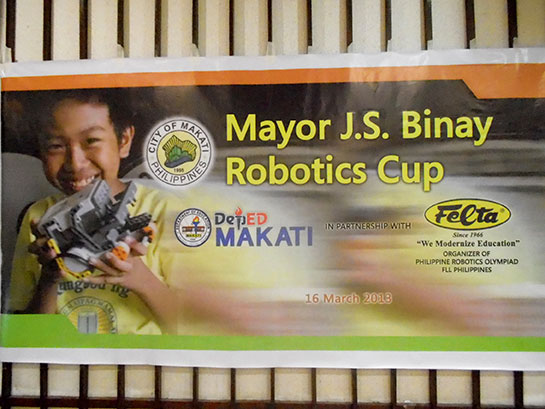 "The City of Makati recently held the 4th Mayor J.S. Binay Robotics Cup at Pitogo High School, Makati City. A total of 44 schools (Beginners) and 26 (Advance) plus 5 schools (On-the-spot challenge)under the Department of Education, Division of Makati City participated. The annual event provides students with extended content and skills essential to the design and operation of robotic systems which is in line with the Science, Technology, Engineering and Math (STEM) concepts. Robotics is highly effective in developing teamwork and self-confidence as well as critical thinking skills.
FELTA Multi-Media Inc. has been in partnership with the DepEd City of Makati for several years in developing the Robotics Program and Curriculum integration in all public schools in the City of Makati.
This year, FELTA Multi-Media sponsored the 4th Mayor J.S. Binay Robotics Cup to continue its support to the City of Makati as one of the pioneer in School Technology advancement in the Philippines.