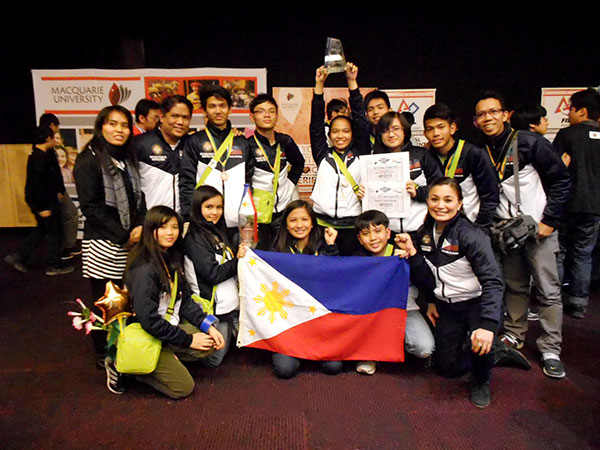 Dr. Yanga's College Inc. represented the Philippines in the recently concluded FLL Asia Pacific Open Robotics Competition held in Sydney, Australia. Thirteen countries (13) from the Asia Pacific including Brazil participated in the said event.
The theme for First LEGO League (FLL) is "Senior Solutions". The iAGE system, Intelligent, Interactive and Integrated Assistive Geriatric Environment, is the entry of DYCI. It is a multi-robot solution composed of: MEDI MACH Medicine Dispenser, a machine that effectively releases 5 different medicines and places them in one container in accordance to the time assigned by the nurse or doctor. A medicine compliance record and a set security and safety password is added to operate the Medi Mach.
MEDI MACH Water Dispenser, a stand alone water dispenser that at the same time automatically dispenses water in synch with the Medi Mach Medicine Dispenser.
PER, a cat – Poly Entertainment Robot which has an audio-visual entertainment attachment
RIO, a parrot – Robotic Information Intelligence Officer- a parrot monitors the elderly with it's video being transported in the Main monitor. It provides light and emits air sanitizer.
ARP , a dog – Assistive Robotic Puppy, provides alarm in synch with Medi Mach Medicine Dispenser by barking when medication is scheduled for intake
DYCI received the JUDGE's Award, an award given by judges to a team whose unique efforts, performance or dynamics merit recognition. The DYCI started their Robot Project Presentation by making "mano" or touching the hand of an elderly as a sign of respect for elders. In addition, DYCI also won the PEOPLE'S CHOICE AWARD voted by other teams during the event. INDIA won the Champion's Award at the FLL Asia Pacific Open Robotics Competition 2013.
For more information, please contact FELTA Multi-Media Inc., Coni Peralta (tel) 912-1397 or visit www.felta.ph and go to FLL Philippines.