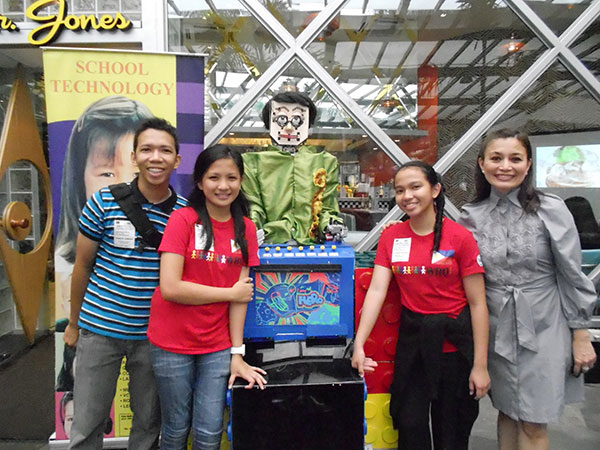 Thousands of students , coaches and over 400 schools have participated in the Philippine Robotics Olympiad. Now, on it's 12th year, the Philippine Robotics Olympiad continuous to provide a scientific robotics competition for students to enhance their skills in simple engineering, computer programming, S&T , team building, communication and critical thinking skills.
The 12th Philippine Robotics Olympiad was recently launched at Mr. Jones, Greenbelt 5 with a Media Press Conference. The Department of Science and Technology was represented by Undersecretary -Department of Science and Technology, USEC Fortunato dela Pena and Dr. Filma Brawner- Director- Science Education Institute, Department of Science and Technology. A Memorandum of Agreement was signed between FELTA Multi-Media Inc. and SEI – DOST . The 12th PRO Board of Judges were also inducted. The highlight of the event was the launch of the Philippine Robotics Academy at different school campuses. The pioneer schools are: St. Michael College of Laguna, Claret School of Quezon City, Dr. Yanga's Colleges Inc. and MCA Montessori School. The PRA includes Robotics Curriculum, Robotics Teacher Training, LEGO Robotics Kits, Computer Laptops, Robotics Textbook for each student, Mentoring and Monitoring by a Master Robotics Teacher. Schoolyear PRA Programs and Semestral programs are available for implementation in different school campuses.
The LEGO EV3 robot was also launched at the event. The new Robot for the classroom is now equipped with a gyro sensor , rotation metal ball, Robotics Tutorial software, data logging feature and internet uploading and downloading of software and programs.
The Media had a chance to interview students and school coaches /administrators on the impact of the Robotics Program in their school and eventually to the Philippines. For more information, please visit www.felta.ph or call FELTA Robotics Program Head – Coni Peralta , telephone #912-1397