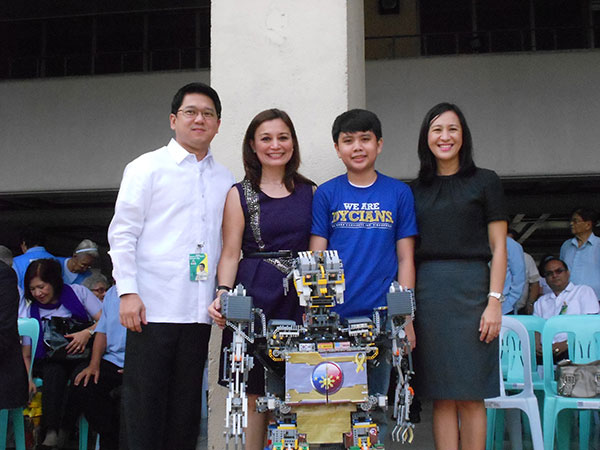 The City of Quezon City celebrated their Filipino Inventor's Week Expo by inviting FELTA Multi-Media Inc. to showcase the award winning Robots of the Philippine Robotics Team.
Mayor Herbert Bautista and Vice-Mayor Joy Belmonte were amazed at the Robotics creations and technical skills of the young students from Dr. Yanga's Colleges Inc. (Bulacan) , Tibagan Elementary School (Makati) and Benigno Aquino High School (Makati) during the event.
FELTA Multi-Media Inc. is acknowledged by the Quezon City government as a trailblazer and innovator in E-ducation and Robotics education. Robot "Pinoy" was part of the Opening Ceremonies and presented a bouquet of flowers to Mayor Herbert Bautista with Mylene Abiva, President/CEO-FELTA Multi-Media Inc., Allen Infante (Dr. Yangas Colleges Inc.) and Vice-Mayor Joy Belmonte.
Quezon City takes pride in its efforts to be the "Knowledge Capital" of Metro Manila by supporting Science & Technology education in the schools of Quezon City.