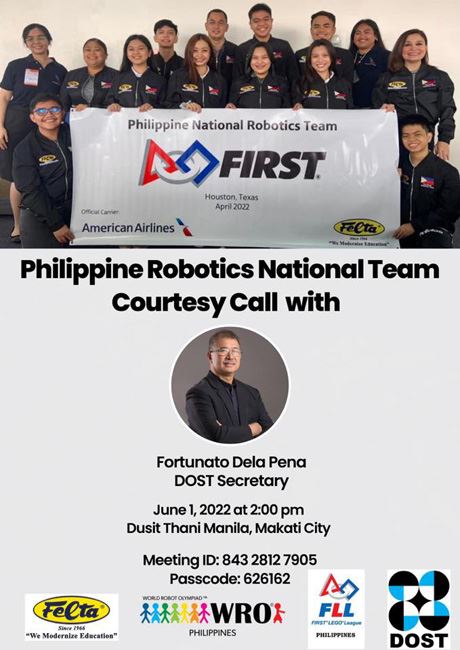 Fortunato T. de la Peña started his professional career at the then ESSO Standard Eastern as a cost and operations engineer in 1969 after graduating with a BS Chemical Engineering degree from the University of the Philippines (UP) that year. He then took up graduate studies in Industrial Engineering at the same university and earned an MS degree in Industrial Engineering. He joined the UP College of Engineering faculty as an Instructor in 1973 and rose to become Full Professor in 1988. He served UP in various capacities: as Chairman of the Department of Industrial Engineering & Operations Research, as Assistant to the Executive Director of the National Engineering Center, as Director of the Institute for Small Scale Industries and as System Vice President for Planning & Development. He taught Industrial Engineering and Operations Research at the University of the Philippines for 43 years from 1973 to 2016.
He was seconded to the National Science & Technology Authority (NSTA) which later became the Department of Science & Technology (DOST) three times: as Head of its Planning Service, as Director of its Technology Application & Promotion Institute and as Undersecretary for Scientific & Technical Services after which he retired in 2014.
In 2016 he was appointed DOST Secretary. Secretary Fortunato Dela Pena has been a strong advocate and supporter of Philippine Robotics Education and Robotics Technology / Mechatronics since 2007. He has been part of the Philippine Robotics National team delegation in World Robot Olympiad Taiwan 2007 and supported the bid for World Robot Olympiad Philippines  2010 . The WRO Philippines 2010 is one of the best World Robot Olympiad .
The Philippine Robotics Society represented by DYCI Robotics team and DLSZ Robotics team conducted a Hybrid Courtesy Call to Sec. Dela Pena at Hotel Jen by Shangrila  and a Virtual event as a gesture of gratitude . The Facebook Live / Zoom Broadcast was attended by DepEd Bohol team and officials (FLL Western Edge, California, USA participants)  and viewed by the general public.  Mylene Abiva, President /CEO, FELTA Multi-Media Inc. led the Courtesy Call and treated the Philippine Robotics teams at the Harbor Square, Roxas Blvd., Manila for snacks.
 Truly, he epitomizes " Science for the People". God bless always