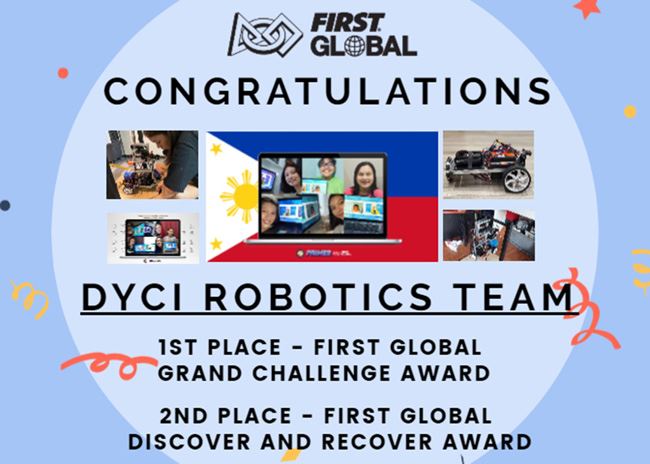 CONGRATULATIONS
Philippine Robotics National Team represented by DYCI Robotics Team!
FIRST Global Challenge was held from June- September 2021.
1st place – FIRST Global GRAND CHALLENGE AWARD 2021 (winning alliance in each category)
2nd place – FIRST Global DISCOVER AND RECOVER AWARD 2021 (Overall winning alliance )
DYCI Robotics Team members:
Aaron Amar
Daniella de Guzman
Annette Nicole Ambi
Nicole Flores
Stacy Cruz
COACHES : Beryl Cruz and Jaspher Alberto
The FIRST Global Challenge is a truly international robotics event, with more than 160 nations around the world participating this year. Teams are composed of students aged 14 through 18 years old.
The FIRST Global Challenge is an olympics-style, international robotics competition that takes place in a different country each year. FIRST Global invites each nation to send a team to build and program a robot to compete. Teams work together to complete tasks in a game themed around one of the greatest challenges facing our planet, including the 14 Grand Challenges for Engineering, in an effort to foster understanding and cooperation among the youth of the world as they use their abilities to solve the world's problems. The challenges we face as a global society need to be solved, and the next generation can meet the task — together.
In 2020, FIRST GLOBAL touched by difficult challenges in various aspects of our lives as a result of the COVID-19 pandemic. However, this time has also shown that STEM provides critical answers to COVID-19 and other major events. In that spirit, the 2021 FIRST Global Challenge focuses on advancing new ways STEM can prioritize practical solutions and counter the effects of the problems youth and their communities continue to face across the world. The virtual Challenge runs for 12 weeks and consists of three main components.
The Solutions Challenge is the main component of the season, and provides an exciting opportunity for teams to turn their STEM skills into real-world application for the benefit of their countries. Under the theme of "Discover & Recover," teams are tasked with identifying a pandemic-related problem in their community in the area of education, environment, health, or economy, and then creating a project to solve it using STEM within the span of the season.
Mabuhay ang Pilipinas! To God be the glory!